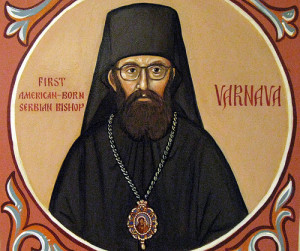 (Feast Day ~ October 30)
Our Lord has promised that the gates of Hell shall not prevail against His Church [Matt. 16:18]. For nearly two thousand years, we have witnessed the truth of this promise. In times of repression and persecution, the Church has survived through the constancy of Christian believers and especially its hierarchs, who are often the first to be targeted by the enemies of the Church. There are many examples of this from the twentieth century, a time close enough to the present day that the memories are still fresh. St. Barnabas (or Varnava) of Hvosno is one of those examples.
Although he was born in Gary, Indiana in 1914, Vojislav Nastić was taken by his Serbian family back to their homeland when he was still a young child. Desiring to serve God in his Church, the young man graduated from the Orthodox Theological Faculty in Belgrade in 1937, taught for three years as a catechist in Sarajevo and then, in 1940, took monastic vows in the ancient Mileševa Monastery. He took Varnava (Barnabas) as his monastic name and was soon ordained as a Hierodeacon.
The Mileševa Monastery of the Ascension of Our Lord (founded 1234-6) has survived and been restored through much persecution in its long history. In the fifteenth and again at the end of the sixteenth century, Ottoman Turkish rulers attempted to burn the monastery buildings down and in the latter attempt, burned the relics of St. Sava, the patron saint of Serbia, making him a posthumous martyr. Two famous fresco icons – one of the angel at the Resurrection and one of St. Sava – have survived these disasters. As a monk at this monastery, Hierodeacon Barnabas would have been spiritually prepared for persecution by the enemies of the Church.
In the turmoil of territorial boundary changes during World War II, a "Croatian Orthodox Church" was formed by Serbian fascists, but Dn. Barnabas was opposed to this idea and had to leave Sarajevo, where he had been serving, in fear of his life.
Ordained priest and made Protosyngellos at the end of the war, Fr. Barnabas was elected to be an auxiliary bishop to Patriarch Gavrilo in 1947 and was given the title Bishop of Hvosno. Because the new bishop was vocal in his criticism of the new Communist government's treatment of the Church, he was soon arrested. The charge against him was that he was an American spy and had been teaching his sister English so that she, too, could spy for America. He was sentenced to twenty years in prison.
Treatment for a Christian bishop in a Communist prison was not good. Bishop Barnabas was tortured, deprived of food, and kept in isolation for long periods of time. It was even arranged for him to have an "accident' in which he broke his leg but, although medical treatment was denied, the bishop recovered. During all this time, he remained steadfast in his faith by continuing to say his prayers daily, singing the hymns of the Church, and remembering the liturgical cycle.
Following his recovery from the "accident", Bishop Barnabas was sent to the Gomionica Monastery for women in Bosnia-Herzegovina and placed under house arrest until his release in 1960. He passed from this life of tribulation to the next of glory in 1964. Due to the suspicious circumstances of his death, some believe that he was poisoned by the Communist secret police (OZNA). The Holy Assembly of Bishops of the Serbian Orthodox Church glorified St. Barnabas of Hvosno and added his name to that great army of saints who continue to pray for us in our struggles here on earth. May St. Barnabas intercede especially for those who are experiencing repression and persecution for their faith.
Sources: Orthodox Wiki article on St. Varnava and Wikipedia article on Mileševa Monastery.