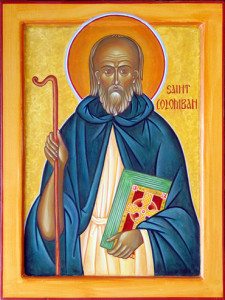 (Feast Day ~ November 21)
The Irishman, Columbanus, born in 543, was intellectually gifted, and his education in grammar, rhetoric, geometry and Holy Scripture could have prepared him for any number of important positions. But instead of other possibilities, he chose to dedicate himself to Christ in the monastic life. If he thought that by choosing this life he would enjoy solitude and tranquility as he prayed and fasted, he was very wrong.
The first years were relatively tranquil. After initial study with the Abbot Sinell of Cluaninis Monastery (during which time Columbanus wrote a commentary on the Psalms), the young monk moved to Bangor Abbey where he received the spiritual guidance of Abbot (St.) Comgall.
At the age of forty, Columbanus received Comgall's blessing to move to the continent to found a monastery in Gaul with the possibility of pursing missionary work in a land where Christianity was only nominally practiced. Twelve other monks, who would form the basis for a new monastery, traveled with Columbanus.
The monks were fortunate in receiving a favorable welcome from King Gontram of Burgundy and they first established a monastery in an abandoned Roman fortress. News of the piety of the monks brought many men to seek the same life and it was soon necessary to found another monastic community, this time in a castle in what is now Luxeuil-les-Bains. Before long, a third monastery, at Fontaine-lès-Luxeuil was founded. Abbot Columbanus maintained authority over the three monasteries, where he established a demanding Rule of life in the Celtic tradition: strict fasting, poverty, obedience to the elders, and emphasizing private confession to a priest. The monasteries provided hospitality for many pilgrims and in order to find solitude amidst all his responsibilities, Columbanus frequently retired to a nearby cave.
The first sign of trouble was in contacts with French bishops, who criticized Columbanus and his monks for celebrating Easter in the Celtic manner and for wearing the Celtic tonsure. This was nearly seventy years before these issues were finally resolved at the English Synod of Whitby (664) and at this time, Abbot Columbanus argued fiercely for maintaining the tradition as it had been taught to him. He even appealed to Pope Gregory I, writing three letters asking for his approval. If there were replies from the Pope, who died in 604, they have been lost.
The next troublesome matters had to do with the moral laxity of the royal family. King Gontram, Abbot Columbanus' first patron, had died and the succession had passed to his nephew, who had also died. The new king, Theuderic II, was under the direct control of his grandmother, Brunhilda. A great wielder of power, this woman did not wish for her grandson to follow Christian ways and to have a legitimate marriage. She approved when he took a mistress, with whom he had several illegitimate children. Abbot Columbanus did not approve. He was very vocal in his criticism of this manner of living and he received the full force of Brunhilda's anger.
Abbot Columbanus was soon forced to leave this kingdom and told to return to Ireland. God had a different plan for the abbot, however, because the ship he and his fellow Irish monks were sailing in was forced back to shore by a severe storm. The captain of the ship refused to have these passengers on his ship when the storm subsided.
So the monks traveled up the Rhine River, preaching to the inhabitants and strengthening the faith of those Christians they came in contact with. Columbanus determined to travel on into Italy, but his companion, Gallus, decided to remain behind in Frankish territory, causing friction between the two monks. Arriving in Milan in 612, Columbanus was welcomed by the Lombard King Agilulf and Queen Theodelinda. She was a devout Orthodox Christian but the Lombard Christians followed the Arian heresy. After being given land at Bobbio (between Milan and Genoa), St. Columbanus' next struggles were in defending Nicene Christianity against the Arians and bringing the pagan Lombards to the Christian faith..
Once again, Abbot Columbanus found a cave for solitary prayer. He made an oratory, dedicated to the Blessed Virgin Mary, in his cave and it was here that he fell asleep in the Lord on November 21, 615. Knowing that death was approaching, he sent his abbot's staff to the monk Gallus, as a sign that he had forgiven him and wished to be forgiven for his part in their earlier dispute.
Columbanus was considered a saint by all who knew him for his tireless work in bringing many to Christianity, for his leadership in establishing monasteries, for his courage in combating both heresy and royal anger, for his love of Christ and His Church. He had a special bond with animals, as was true of so many of the saints, and there are numerous miracles attributed to him, especially ones of healing. An account of his life, which tells of the saint's sometimes headstrong behavior as well as his virtues, was written by Jonas, a monk of the Bobbio abbey (where the saint's relics are preserved), about twenty-five years after his death.
May we remember – as St. Columbanus learned – that leading a faithful Christian life may not bring peace and tranquility; our Lord himself warned us about the difficulties we might face His sake [Mark 13]. Despite trials and tribulations, may we remain faithful and may St. Columbanus pray for us.
Sources: A Calendar of British Saints (Orthodox Synaxarion) compiled by Fr. Benedict Haigh; Celtic Saints by Martin Wallace; Saints of the British Isles by Andrew Bond and Nicolas Mabin, on-line Wikipedia article.