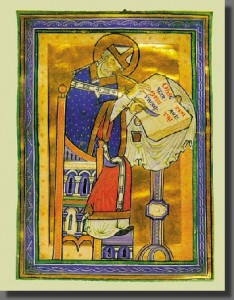 (Feast Day ~ May 19)
So often we find, in the Orthodox approach to life, that issues are "both/and" instead of "either/or". We learn from Holy Scripture that Christians are to be both in the world and in heaven; in the Liturgy, we express both sorrow for our sins ("Lord, have mercy upon us") and joy at God's gifts to us ("Glory be to God on High");  in the lives of the saints we see both the contemplative way and the active way as paths to the heavenly kingdom. Christians are often called to a life of balance. St. Dunstan, holy abbot and bishop, provides an example of this balanced life.
Dunstan was born near Glastonbury in the year 910. A charming story is told of the Candlemas celebration when he was still in his mother's womb. She was in the procession with the congregation, all carrying lighted candles, when suddenly and without explanation, all the flames were mysteriously extinguished. Just as suddenly, Dunstan's mother's candle rekindled itself and from her flame, the rest of the congregation re-lit their candles. Always open to signs from God, the people accepted this event as signifying that the unborn child would be a great light in the Church. This prediction proved to be accurate.
The boy was sent to the monks at Glastonbury Abbey for his education. After several centuries of attacks by Norse invaders, British monasticism – and civilization in general – had declined considerably, many monasteries were closed, and monastery lands had been taken over by powerful noblemen. Glastonbury, with its rich and long history, had survived this decline enough to prepare a young man for sainthood. Further study at Canterbury with his uncle Athelm, who was Archbishop, gave Dunstan more experience for a life of service in the church.
But then Dunstan went to court to serve under King Athelstan. Here he encountered jealousies and competition for power. At the age of 25, he was accused of practicing magic and studying pagan stories and was expelled from court. At this juncture in his life, Dunstan considered marriage, but with the encouragement of his uncle Athelm, he instead took vows, was tonsured as a monk, and later ordained priest.
The "both/and" of combining spiritual and worldly concerns had already been established for Dunstan and now that approach continued. The young monk returned to Glastonbury Abbey where he lived as a hermit, spending many hours in prayer and fasting, in singing the Psalms and studying Holy Scripture. But at the same time that he struggled in these spiritual pursuits, he busied his hands with perfecting embroidery to beautify church vestments and with metal work, making bells for announcing the hours for prayers. He composed music [a Kyrie still in use has been attributed to him], painted pictures [ a book in the Bodleian Library in Oxford containing a picture of Dunstan prostrate at our Lord's feet is considered by some to be Dunstan's self-portrait], and it is said that he made organs [some of his tools still exist]. For the remainder of his life, St. Dunstan enjoined all the monks in his pastoral care to be engaged in some sort of practical craft consistent with the Benedictine rule under which they lived.
Dunstan was appointed abbot of Glastonbury monastery by King Edmund (who believed that Dunstan's prayers had saved him from accidental death). Many new monks were inspired to pursue the ascetic life under Abbot Dunstan's guidance and the disciplined life in this ancient monastery was renewed.
Abbot Dunstan continued to serve as a counselor to the king in civil affairs and he made no distinction between the spiritual and the secular. For King Edred, Dunstan provided safe-keeping for part of the royal treasury at Glastonbury Abbey. When the 15-year-old Edwy (Eadwig) became king, St. Dunstan publicly condemned him for lascivious behavior and for this, Dunstan was forced into exile to the monastery of Mont Blandin in Ghent. During the two years he spent there, he learned many things about the practice of monastic life which he brought back with him to Britain. When Edgar became king in 957, Dunstan was recalled to England and appointed Bishop of Worcester; he was moved to London as its bishop two years later, and then made Archbishop of Canterbury in 960.
Now Archbishop Dunstan had even greater opportunities for leading the life of "both/and". Perhaps having in mind the Post-Constantinian Imperial ideal of Christian civilization, in which government and church worked hand in hand, he assisted in the establishment and carrying out of civil laws affecting the welfare and peace of lay people in villages and cities, and he promoted the reforms of English monastic life which were to remain in effect in Britain until the horrible destruction of the monasteries in the 16th century. Civil laws were especially needed to put an end to the idea of the "blood feud", effective penalties for violent acts had to be established, and methods for providing for the poor and destitute had to be created. The monasteries had to be re-established on their lands, the churches and other buildings restored, and the orderly life of work and prayer returned. Learning had to be renewed for the study of Scripture and the Fathers and for the proper conduct of services. Married clergy had been living as worldly property owners, living on inherited land which they passed on to their children, and accumulating other wealth. Dunstan's desire was to restore the communal life of the monastery for the proper training of priests and from which to draw those suitable to become bishops. [Dunstan's counsel to the king led to the passing of civil judgements to abbots and bishops. Fines and tithes were paid to the monasteries, and the resentment to the eventual accumulation of power and wealth which came of these practices contributed to the destruction at the time of the Reformation.]
After the martyrdom of King Edward in 978, St. Dunstan was less active at court, preferring to spend most of his time with his monks at Canterbury. The beloved archbishop celebrated the Divine Liturgy for the last time on Ascension Day, May 17, 988. He preached three sermons that day and bade farewell to the monks, telling them that he foresaw his death within three days. On May 19, Dunstan, faithful servant of God both in the church and in the world, fell asleep in the Lord. Many miracles associated with his relics were reported and the people began venerating him as a saint. Very soon after his death, May 19 was established as his feast day in the calendars of English churches.
May blessed Dunstan's example of living in the world and in heaven, of being contemplative and active show us the pathway to holiness, and may he intercede for us at the heavenly throne.
[Sources: The Anglo-Saxon Chronicle, tr. & ed. G. N. Garmonsway; The Anglo-Saxons, ed. James Campbell; From Alfred to Henry III (871-1277), by Christopher Brooke; Lives of Saints for Young People, Vol 5 (Saints of Holy Britain), by Archbishop Lazar Puhalo; The Oxford Dictionary of Saints, by Hugh Farmer; The Oxford Dictionary of the Christain Church, ed. F. L. Cross; The Pre-Conquest Church in England, by Margaret Deanesly; The Saints of Anglo-Saxon England, Vol. II (9th to 11th Centuries), by Valdimir Moss.]