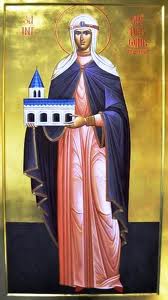 (Feast Day ~ October 19)
The patron saint of the city of Oxford, England, is St. Frideswide, whose day is commemorated on October 19.
Born around the year 680, Frideswide was the daughter of a Christian King of Wessex. She chose the monastic life for herself, but royal marriages were a means of creating political alliance so her decision was not taken well. The princess was sought by a prince who was determined to marry her.
The young woman fled from his attentions, first into the forest and then to Oxford. In his vigorous pursuit of Frideswide, the prince was struck blind. When Frideswide took pity on him, prayed for his healing, and his sight was restored, the young man perceived God's plan for Frideswide and he relinquished his claim on her.
Thereafter, the princess traded her royal title for that of abbess, when she founded a double monastery in the city of Oxford. After her death (around the year 735), her relics were venerated by pilgrims at her shrine and she became known as the patron saint of the city.
Even though the monastery was destroyed by the Vikings in the 11th century, the relics were preserved and the monastery and shrine rebuilt, until the iconoclastic "reformers" of the 16th century destroyed the shrine and desecrated the relics by mixing them with those of others (the mixed remains are still buried together in Christ Church Cathedral).
Through many tumultuous times, St. Frideswide, who persevered in a life dedicated solely to God, has continued to intercede for the city and university of Oxford.