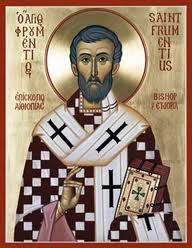 (Feast Day ~ October 27)
Adventure novels and Hollywood movies are usually the settings for tales of travel to faraway places, shipwreck, murder, enslavement – tales which eventually have happy endings. However, many such tales fill the history of the Christian Church as it spread through the world. One such story is that of St. Frumentius, Bishop and "Apostle of the Abyssinians."
During the reign of Emperor Constantine, soon after Christianity had been given legal status in the empire, two Christian adolescent brothers, Frumentius and Edessius, embarked on a long journey from their hometown of Tyre. They were traveling with Meropius who, according to some reports, was their learned philosopher/teacher, and in others, the merchant uncle of the boys, intent on teaching them the methods of trade. Whatever the purpose of the trip, the expectations of all were soon crushed when their ship was marooned off the coast of Abyssinia (Ethiopia) during a storm. The crippled vessel was discovered by thieves who stole all the goods and killed all the adults on board. The boys' lives were spared and they were taken to the city of Axum, where they were presented to the king as slaves for his household.
Throughout their fifteen years of patient service, the brothers' intelligence and abilities were recognized and they were given great responsibility. Edesius eventually became the king's cup bearer and Frumentius one of his treasurers. The brothers saw the great missionary potential in this land and took every opportunity to tell the people about our Lord Jesus Christ. Through his work in the treasury office, Frumentius was able to increase contact with Christianity through trade with Christian merchants. God had prepared these people for this work through King Solomon and the Queen of Sheba and through St. Philip's conversion of the Ethiopian eunuch. Now the people eagerly received the Good News and many were brought to the knowledge of the Truth.
When the king died, his son granted freedom to the two highly-respected brothers. Edessius returned home to Tyre where he was ordained priest and spent the remainder of his days serving his own people. Frumentius, in his great zeal for the conversion of the Abyssinian people, went to St. Athanasius, Patriarch of Alexandria, to request the appointment of a bishop for this country. Upon hearing about Frumentius' work, St. Athanasius realized that no one was more suited to continue that work than Frumentius himself, so he consecrated him as the bishop for Abbysinia.
Bishop Frumentius labored arduously among the Abyssinian people until he entered his heavenly home around the year 370. May God, through the prayers of St. Frumentius, protect the Ethiopian people today and keep the Christian faith alive in that land.