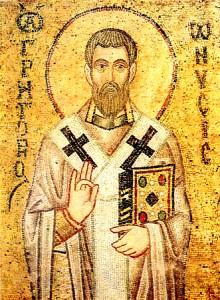 (Feast Day ~ March 9)
It is wonderful to see how, in so may families, physical characteristics are shared by members of the family. The mother's blue eyes are reflected in each of her children; the father's red hair has been inherited by several of his offspring; and a prominent nose appears in all the family photographs from the great-grandparents to the latest baby. Our genetic inheritance helps to make us who we are.
How much more wonderful, however, is the spiritual inheritance of families whose devotion to Christ has been passed from generation to generation. St. Gregory of Nyssa belonged to such a family and was one of many in this family who became saints of the Church.
Born around the year 335, Gregory was brought up in the Christian faith with help from his grandmother (who is known to us as St. Macrina the Elder), his mother Emily, father Basil (the Elder), and nine brothers and sisters. Among his siblings, his brother Basil (the Great) and sister Macrina (the Younger) are venerated as saints as well as the youngest brother, Peter, who became Bishop of Sebaste. Conversations at dinner in the family home must have been lively theological discussions!
Like the other members of his noble family, Gregory received an excellent education (largely through the home-schooling of family members) and excelled in his studies. He married Theosevia, an equally devout young woman and pursued a career as a lecturer. At some point he was ordained priest and when Theosevia died unexpectedly, Gregory began to devote more of his energies to defending Orthodox Christianity against the threat of Arianism.
In the year 372, Gregory's brother Basil (who was Metropolitan of Caesarea), ordained Gregory to be the Bishop of the Cappadocian city of Nyssa. Because of his opposition to the Arians' attempts to declare that Christ was not God but a man created by God the Father, Bishop Gregory was frequently involved in conflict. His Arian enemies, aided by the Arian Emperor Valens, were able to falsely accuse him of things such as embezzlement of church funds and he was twice sent into exile. Each time, he was able to be reinstated and to continue his tireless efforts to preserve Orthodoxy.
When St. Basil died in 379, Gregory was deeply grieved at the loss of his brother and spiritual companion. Bishop Gregory preached his brother's funeral sermon and finished a series of sermons which St. Basil had been working on at the time of his death. At the death of their sister, Macrina, the following year, Gregory wrote about the life of this dear member of his family.
In addition to participating in several local synods and traveling to Antioch, Bostra (Arabia) and Jerusalem to help settle disputes, Gregory was instrumental in helping to complete the final section of the Nicene Creed relating to the Holy Spirit added at the Council of Constantinople (the Second Ecumenical Council) in 381.
St. Gregory's teachings on the Holy Trinity and the infinite nature of God have had a lasting effect on Christian theology. He and his brother, St. Basil, and their friend, St. Gregory Nazianzus, are considered the three great "doctors" of the Church in defining these concepts for the Church through the ages. St. Gregory also contributed much to our understanding of the necessity for theosis, or constant striving to be more like God.
St. Gregory himself, having begun life with a great spiritual heritage from his family, and having spent his life striving for perfection, fell asleep in the Lord at an advanced age around the year 395. We pray that God will give us the will and wisdom to share our faith with others in our families, as we share our genetic heritage. May St. Gregory of Nyssa intercede for us.