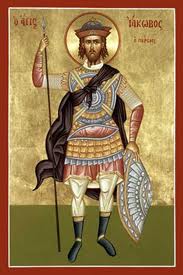 (Feast Day ~ November 27)
There are so many warnings in the Bible about the danger of being seduced by the pleasures and honors of the world that we would think that for us Christians, the warnings would be heeded and the danger averted. But for each of us, there are numerous times when the temptations are too great and we are lured away from the path of righteousness. We should take heart in knowing that even the saints of the Church have been through this trial, but have repented and returned to the Lord. St. James the Persian is an example for us.
James was born in the late fourth century in the city of Vilat, a royal residence in Persia. His family was prominent socially and were wealthy. They were also Christians and had brought James up to practice his Christian faith devoutly. He married a Christian wife and began a promising public career.
James was intelligent, gifted and a hard worker. At the court of King Isdegerdes, his talents were noticed and he rose quickly to a prominent position of authority. He was given many honors and titles and also became a close friend of the king's son, Prince Vararanes. When the royal family did homage to the pagan gods at public ceremonies, James – in his desire to stay in favor – did as the king and prince did, blaspheming the one true God and putting his soul in mortal danger. When the king declared war against the Christian religion, James' apostasy was even more complete.
Soon King Isdegerdes died and James' friend the prince became the new king. James' wife and mother conferred and decided to reproach him in a letter. They wrote to him of their grief over his having forsaken God and of how they had been praying for mercy for him. They told him to see how his patron, the pagan king, was now nothing but dust and ashes. He could no longer flatter James with favors and he certainly could not offer him eternal life. They begged James to repent and return to Christ, who had assured his followers of immortality.
As a bolt of lightening in a storm, this letter brought James to his senses. Like the Prodigal Son, he was truly ashamed and sorry for all that he had done. Weeping bitterly, he repented of his sin and knew that he must set things right with the new king. James went to Vararanes – who had been such a close friend – and told him that he was a Christian and could not condone the king's banning of his religion. The former friend was furious and tried his best to talk James out of such a dangerous declaration. But this time, James was steadfast and would not be dissuaded. So he was sentenced to the punishment allotted to Christians.
The young courtier – who had been seen by the populace as a rising star in the public arena – was brought outside to face his torture. First, his fingers were severed, one at a time, then toes, arms, and legs. Still, the young man would not renounce Christ. The onlookers were brought to tears as this horrible mutilation was carried out on one they had admired so greatly. The pagans in the crowd tried everything they could think of to persuade James to give in temporarily or to try to buy his way out of this sentence, while the Christians who were watching prayed for courage and mercy. Finally, the executioner cut off his head and James passed from this life into the next. This was on November 27, somewhere between the years 389 and 421.
Brave Christian witnesses tried to buy St. James' relics, but were refused. However, they were soon able to steal the relics from the pagans, place the twenty-eight different pieces into a trunk and bury them where the authorities would not find them. The relics were eventually taken for veneration in churches, primarily in Rome and Portugal.
In our day, persecution of Christians is still this bloody in some places; in others, it is more subtle. But everywhere, the danger exists of falling for flattery, honor, power, and position and denying Christ in the process. May St. James the Persian pray for us that we may be faithful and repentant when we fail.