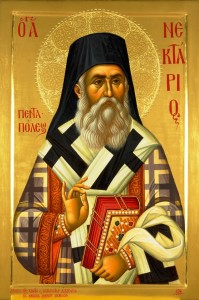 (Feast Day ~ November 9)
The lives of the saints are not tales of happy days, good deeds, reverence by all, and peaceful death. More often, the lives of the saints have been filled with conflict and difficulties of all sorts in which the saint has had to rise above adversities. But these stories are not the "rags to riches" success stories of the world either. Rather, they reveal the true purpose of life: to follow Christ wherever it leads and it whatever circumstances we find ourselves so that, at the end, we may joyfully hear our Lord say, "Well done, thou good and faithful servant." This is certainly true of the life of St. Nectarios of Pentapolis.
Anastasios Cephalas was born in 1846 in Thrace (now in Turkey) to pious but very poor parents. They gave their son the most important gift – an example of strong faith and the tradition of Christian prayer and attendance at church. The boy was obedient and helpful to his parents growing up, working at any job he could find to contribute to the family's finances. But he also hungered for learning and his village only offered elementary school instruction. So at age 14, Anastasios went to Constantinople for further study, working in a store and at various other jobs to pay for his living and send aid to his family.
After six years of study there, the young man went to the island of Chios for a teaching position. Seven years later, he entered a monastery and was tonsured as a monk, taking the name Nectarios. By the time Nectarios was ordained Deacon at nearly 30 years of age, his gifts for teaching, preaching and writing had become apparent. A wealthy patron took interest in him and paid for him to continue his education at the University of Athens. The patron then advised Deacon Nectarios to travel to Alexandria to meet Patriarch Sophronius IV. More study resulted from this meeting, as the Patriarch recognized the intellectual and spiritual gifts of Nectarios. He sent him to the School of Theology where he finally received a degree at the age of 39.
Returning to Egypt, Nectarios was ordained a priest and assigned to a parish in Cairo where his abilities as a preacher, teacher, and administrator made him well-loved and respected. The Patriarch consecrated him as Bishop of Pentapolis. It appeared that Bishop Nectarios was leading a charmed life: he was successful in everything he did; he was loved by many people; he had been freed from the poverty of his youth by a wealthy patron; he was in a position of authority. But "charmed" lives do not usually lead to sainthood.
The envy and jealousy of other clergy in the Patriarchate of Alexandria grew to such a degree that they went to Patriarch Sophronius with false allegations against Bishop Nectarios. The Patriarch believed these lies and ordered Nectarios to leave Egypt in disgrace. The bishop was not given a trial or any opportunity to defend himself against his accusers. So he returned to Athens where he became a teacher in the Rizarios Ecclesiastical School for the training of priests. Here Nectarios' abilities as a writer flourished as he wrote many books about the Orthodox faith.
In 1904, a group of nuns approached Nectarios and asked his help in establishing a monastery. His help in creating the Holy Trinity Monastery on the island of Aegina was tremendous. He used his own funds to finance the building projects and even carried stones and added his efforts to the manual labor involved. He also tended the gardens that were established on the monastery grounds.
Four years later, St. Nectarios left his teaching position and went to live at the monastery where he remained for the rest of his life. He was able to continue preaching, teaching, and writing, and people came from great distances to be near this great man. His humility was obvious to everyone and his spiritual gift of healing resulted in many miracles. When St. Nectarios was hospitalized with prostate cancer and was dying, a nurse accidentally placed his shirt on the bed of the next patient, a man who was paralyzed. Suddenly, the man was healed of his paralysis, leaving no doubt that Nectarios was a saint. At his repose in 1920, St. Nectarios surely heard our Lord's voice: "Come, you blessed of my Father, inherit the kingdom prepared for you from the foundation of the world." [Matt. 25:34]
St. Nectarios' body remained incorrupt, as is true of so many of the saints, and he was glorified by the Ecumenical Patriarchate in 1961. The Patriarchate of Alexandria issued a public statement of apology and asked for the forgiveness of the saint for his treatment in Egypt. St. Nectarios' intercessions are particularly sought by those suffering from cancer, heart disease, arthritis and epilepsy and miracles continue to be attributed to his intercessions.
May St. Nectarios pray for us – for healing of our infirmities, for resisting the temptation to envy, for meeting every adversity with humility and the love of Christ. Holy Nectarios, pray for us.