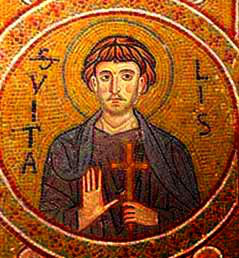 (Feast Day ~ April 28)
In the early days of the Church, when Christians were being persecuted and put to death for their religious beliefs, information about those who were martyred passed quickly through the Christian community. Sometimes, eyewitnesses were able to record the words spoken at the trial and execution, but in other cases, exact information was difficult to establish and only the most basic facts of the event were passed on by word of mouth. Through the years of turmoil before Christianity was made legal by the Emperor St. Constantine, many stories became enlarged or were mixed with other stories so that it is tempting for us – who, in the 21st century, are accustomed to "checking the facts" – to dismiss these stories as untrue. But the devotion and veneration of many generations of Christians should cause us to realize that this saint did exist and that his life and martyrdom – even without verifiable facts – should be honored by the Church. St. Vitalis is such a saint.
We can work our way backward in learning about this saint. Several early calendars include St. Vitalis in their lists, such as that of St. Bede in his 8th century calendar of saints for the monastery at Jarrow in northern England. The city of Ravenna, where Vitalis' martyrdom took place, considers him its patron saint and he was so revered there in the 6th century that the Emperor Justinian built a beautiful octagonal basilica in 547 over the supposed place of his martyrdom.
Although there are variations in the events and relationships in different versions of the story, all agree that Vitalis was a prominent citizen (probably from Milan) who traveled to Ravenna with a judge, Paulinus. There the two witnessed the public execution of a Christian physician named Ursicinus. The doctor was in such fear and dread, knowing what sort of death he was facing, that he was on the verge of apostacy. Vitalis, who was himself a Christian, cried out to Ursicinus, urging him to be brave and not lose the crown of martyrdom by denying Christ. This was all that was needed for Ursicinus to face his execution courageously and Vitalis made certain that he received a Christian burial.
Paulinus was shocked to find out that his friend Vitalis was also an adherent of this illegal religion. He ordered that Vitalis be put on trial and when he refused to recant, he decreed that the man should be bound and buried alive. Thus, having just helped another to die for Christ, St. Vitalis also became a martyr for his faith. This was around the year 52 during the reign of Emperor Nero.
An addendum to this story is often told regarding Valeria, the wife of Vitalis. When she left Ravenna to return to Milan, she came upon a group of revelers who were sacrificing to idols and then having a banquet with the food that had been offered to the idols. They invited Valeria to join them, but she refused, declaring herself a Christian. The people became so enraged that they beat Valeria severely. She died shortly after arriving in Milan, joining her husband in suffering for Christ's sake.
Is the story true? Was there a real person named Vitalis? Did these events actually happen? After almost 2,000 years, we will probably never find an authenticated record of his life and death. But we do know that his memory has been revered by Christians during those almost 2,000 years. We can rightfully add our veneration to theirs and ask for the prayers of St. Vitalis, that he would aid us in our weakness and encourage us to persevere in the Christian life.
Sources: Lives of the Fathers and Other Saints by Rev. Alban Butler; Catholic Encyclopedia online; The Oxford Dictionary of Saints by David Farmer; The Golden Legend by Jacobus de Voragine.